How Do You Choose the Perfect Kindergarten Curriculum for Homeschooling?
Looking for homeschool curriculum can feel so overwhelming.
Many parents who find themselves seeking out the perfect kindergarten curriculum for homeschooling have never gone through this process before and it can be hard to know where to begin.
You want to choose the perfect curriculum right off the bat because you don't want to bounce around and be inconsistent. Also, curricula are not always cheap. Who wants to invest in something that they won't end up using?
I know because I have felt those things too!
But how do you choose?
If you're like me, you read tons of reviews to help you decide if a certain curriculum will work for your family. Then you spend hours looking at samples and texting every homeschool parent you know to find out what they use. Oh, and don't forget about getting input from the 5 homeschool Facebook groups you are a part of!
Today, I want to help you simplify your task of choosing a kindergarten curriculum for homeschooling your kiddo. I will give you the rundown of what we are using and loving this year.
This post contains affiliate links. See my disclosure for details.
I wanted to keep things simple this year. My daughter is in kindergarten and I want her to develop her creativity, curiosity, and social skills through play. And at this age, she is still learning an incredible amount through independent play and exploration.
Kindergarten Curriculum for Homeschooling that We are Using and Loving
Since we are keeping it simple, we are using separate curricula for math, reading, and handwriting and just one other curriculum for everything else. I'll give you a brief intro to each curriculum and some pros and cons. Let's jump in!
Math Curriculum: BJU Math
BJU stands for Bob Jones University. They have curricula for many different subjects. This year I'm only using their math curriculum.
Choosing a math homeschool curriculum was the hardest for me. I wanted something that taught in a way that helped my child have great number sense, was engaging for my daughter, would not require a lot of prep work, and left potential for some independent learning as she gets older.
I looked through soooo many different curricula. Some seemed too easy, others too boring. And one that I really liked required a lot of teacher interaction even as the child got older.
Then, my sister-in-law found BJU. It checked all the boxes!
Pros:
Minimal prep work

Who has the time to prep? This curriculum allows you pull out the book and teach with almost no prep work.
You might have to pull out some manipulatives or make sure a worksheet is printed the day before, but other than that you can just follow the scripted lessons.

Daily bonus activity

This activity requires a little more looking ahead to see what materials you might need, but it is very simple, hands-on, and always fun for the kids. 

It's a spiral curriculum

A spiral curriculum teaches a concept and then revisits that concept frequently to solidify understanding. The daily review is really great for making sure that my kiddo remembers what she has learned in the previous chapters. 

It's engaging

There are puppets that my kids go crazy over, many songs and rhymes that they enjoy, and cute colorful illustrations.

The price is reasonable

The teacher's manual, student workbook and the manipulative booklet come together for $94.15. They suggest some posters, but we have been doing just fine without them. I did buy some unifix cubes, per their suggestion, and I'm really glad that I did. 

There is an option for video lessons

This would be an extra cost, but if you want your child to learn without needing you to teach them or you have multiple children, this is a perfect option!
Cons:
There are a LOT of lessons in the book. Like 160 lessons.

I don't do book work with my kindergartener five days a week, so the amount of lessons makes it really hard to get through the whole book, even if I go through the summer.
Now some people don't care about finishing a book in a school year since they are homeschooling and grade levels don't matter all that much, so this might not matter to you. Personally, I like to be done with a book within the school year just for organizational purposes.
To get through the materials quicker, you can skip the review days. Each chapter contains two review lessons and if your child is not struggling with the concepts in the review it's easy to skip those lessons. Especially, since each lesson also includes review of previously learned concepts. 
Another side note about this curriculum is that the teacher's manual is written for a classroom teacher. So, you will have to modify the lesson a bit to teach only one child, but I didn't find this to be a challenge at all.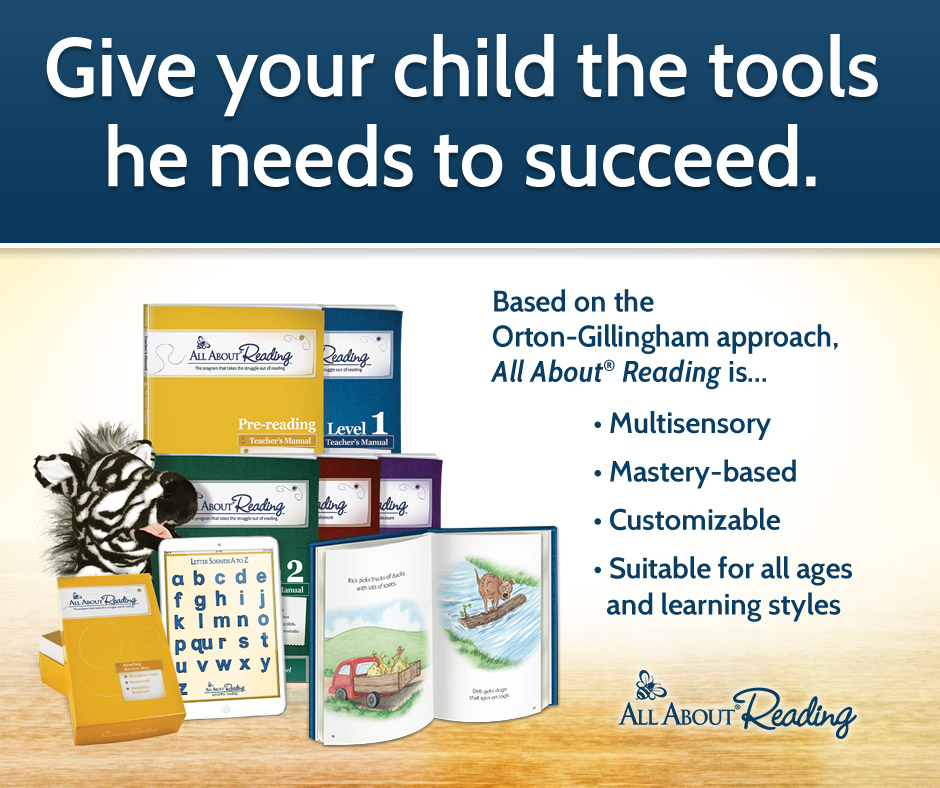 As a reading teacher, I have pretty high standards for what curriculum I use for reading. All About Reading was highly recommend by many homeschool friends and got rave reviews online.
So when a sweet homeschool mama friend gave me the pre-reading and level one materials, I was elated to try it.
I loved it, and you will too!
Pros:
It has all five elements of reading to help your child succeed.

If you want to find out more about this, check out this post. But for our purposes here, I'll just say that this program covers each of these important elements comprehensively.

This program is a multi-sensory program

The lessons engage my kiddo through sight, sound, and touch. She loves the different parts and activities in the lessons, and they help her learn!

Everything is taught in context

When a concept is introduced, the student uses what they have learned right away. The skills build upon what was already taught and practiced, which really gives my daughter a sense of pride and accomplishment.

It is an open and go curriculum!

YOU can do it. You do not have to prep in advance or look over lessons ahead of time. For me, this is a must. The teacher in me loves to plan, but y'all, I know my limitations and sometimes there just isn't enough time.
Cons:
It is not the cheapest option on the market.

The teacher manual, student packet and three readers are $134.94, plus you need to purchase a "Basic Reading Interactive Kit" for $21.85 (This kit will be used for all levels, so you'll only need to buy it one time.)
My daughter finished level 1 in the first semester, which requires purchasing another level mid year, so the cost definitely adds up.
The fluency sheets are long.

Some lessons have two pages (front and back) of practice words and sentences. The practice is good, but early readers can get frustrated with too many words and how long it can take to get through them.
We ended up slowing waaaay down to avoid frustration and keep up her love of reading. Her loving to read is the most important thing when it comes to reading, so I don't want that to be stifled by anything.
Handwriting Without Tears is a great tool for teaching young kids how to write letters correctly.
Pros:
No prep required
You can do as much or as little as you want each day

We focus on just a couple pages a day to make sure that my little lady has the correct pencil grip, is forming the letters correctly, and isn't getting frustrated.

It teaches how to form letters step-by-step
It's inexpensive-only $12.97
Cons:
I can't really think of any. We have loved using this handwriting curriculum for kindergarten.
Science, Social Studies, Language Arts: Five in a Row
Five in a Row (FIAR) is a literature based curriculum that is extremely flexible in how much you want to do with it. It is geared toward children from four to eight years old.
There is also a Before Five in a Row (BFIAR) curriculum geared toward children from two to four years old. If you are looking for some preschool homeschool curricula, I have some recommendations here.
This homeschool curriculum is called Five in a Row, because the idea is that you read the same book for five days in a row and do activities that go along with the book during that time.
When you purchase this curriculum, you will receive a large spiral bound book that has a list of wonderful book titles and suggestions for activities that go along with the book.
We have used the BFIAR curriculum for years and have had so much fun with it. Now we are using the FIAR curriculum and are having just as much fun.
Pros:
It is inexpensive. The manual is only $35.00
Great for teaching multiple ages.

If you have kids that are close together in age, this curriculum is perfect since it's designed for four to eight year olds. Even my three year-old son tags along while we do FAIR and still enjoys it.

It's very flexible.

You can do the most simple activities or just read the book five days in a row and be done.

The suggested books are amazing

I love introducing my kiddos to rich literature, and we have been able to borrow many of the books from the library.

The activities are a lot of fun
It's easy to find even more activities to go along with each book online.
Cons:
It is not a stand-alone curriculum

You need to find a math and reading curriculum to supplement.

It can be hard to choose which activities to focus on during the week.

(But only if you are a perfectionist like me and have to look into eeeevery activity in the book and on Pinterest.)

Depending on what you want to do, the prep-work can be time consuming

(But again, this is only if you let it, and I definitely struggle with this.)

You have to either buy or check out the books from the library each week.
Kindergarten Curriculum for Homeschooling
So, mama, if you are stressing about finding the perfect kindergarten curriculum for homeschooling, I would say stop and rest! You cannot mess up your child's education in kindergarten! Just spending intentional time with your kiddo is enough.
Buuut, I know that you will still stress, which is why I wrote this post for you. You really can't go wrong with these options.
What is your favorite kindergarten curriculum for homeschooling? Comment below! I always love hearing what is working for other families and seeing how we can switch things up in our home!
Questions about what we are using? Just ask below! I'd love to help!
Other Posts Similar to "Kindergarten Homeschool Curriculum"
Homeschool Supplies for Preschoolers
How to Teach Your Child to Read
Kindergarten Curriculum for Homeschooling
Please follow and like us: